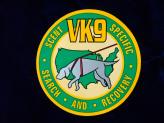 VK9 Scent Specific Search and Recovery Unit

- Providing Specialized K9 Support to LE

"It should be noted that the suspect attempted to remove all evidence from the scene of the crime as well as conceal his identity.  Without your assistance, the case may have gone unsolved"

-Harry Tyson, Chief of Police

Wilson, North Carolina Police Department

"It is evident that you are specialists in using canines for human search, rescue, and recovery"

-Thomas Moss, Chief of Police

Garner Police Department, Garner, North Carolina

" I would like to thank each of you for your offered services and quick response.  Your work was crucial to solving this case"

-Stanley Stout, Chief of Police

James City Police Department, Williamsburg, Virginia

"The use of the Canines produced additional evidence relevant to this homicide.  The ability to run a track over 30 days old is a testament to these canines' abilities."

-Larry Rollins, Sheriff

Harnett County Sheriff's Office, North Carolina

"Your Search & Recovery Unit acted in a most professional manner and your detailed documentation of the search is invaluable."

-Rudy Hanson, Investigations - Lane Cribb, Sheriff

Georgetown County, South Carolina Sheriff's Office

"Our officers are eternally grateful and appreciative for not only the time you spent providing assistance in these search efforts, but also for your outstanding team-work spirit and superb cooperation."

-C. R. Jordan Jr., Chief of Police

Hampton Police Department, Hampton, Virginia

"The use of the dogs in this case helped to verify the suspect. This lead to a grand jury indictment for 2nd degree murder on the driver in this case."

-Dennis Edwards, Detective

Richmond Police Department, Richmond, Virginia

" A massive search ensued from the air and ground with no positive results.  During the 10 days following February 23, 2004, your K9 Unit was instrumental in narrowing down our search area tremendously."

-Frank Crotty, Captain

York-Poquosen County Sheriff's Office, Virginia

"Even though we have patrol K-9's in our Department, their dogs far surpassed ours in scent detection and trailing."

-Harry Tyson, Chief of Police

Wilson Police Department, WIlson, North Carolina

"Please accept my gratitude for the work that Julie Jones and Sarah Platts performed with their canines during our search for Nicholas Garza. ...Your efforts helped us to bring this case to a close."

-Tom Hanley, Chief of Police

Middlebury Vermont Police Department

" We are very impressed with their professionalism and dedication. Their efforts provided valuable assistance and were helpful in establishing probable cause to further our investigation"

-Thomas R. Tremblay, Chief of Police

Burlington Police Department, Burlington, Vermont

"Their willingness to volunteer in the interest of public safety is commendable and greatly appreciated by the members of our Department."

-R.P Wensel, Corporal

Norfolk Police Department, Norfolk, Virginia

"Mr. Clarks daughter and her husband confirmed both the areas and the unusual actions."

-Marvin Stites, Sheriff

Linn County Sheriff's Office, Kansas

"The family was greatly comforted by your efforts, and everyone here was greatly impressed by your professionalism and thoroughness".

-Kevin Bryant - Sheriff  -- Captain James Estes

Lee County Sheriff's Office, North Carolina

"Your agency provides a crucial element to the search and recovery mission."

-Frank J. Kitzerow, Chief of Police

Portsmouth Police Department, Portsmouth, Virginia

Excepts from Testimonials and Letters of Reference

".... The ability of the canines [of Ms Jones & Ms Platts] to get positive hits for the suspect weeks after one of the murders is a true test of their skills.  ..... [when] the suspect in the three murders pled guilty and gave a full confession.  The confession confirmed each location where the dogs had indicated the victims or suspect had been....  The maps, logs, and reports forwarded to us were detailed and complete.  They showed how the canines were able to trace the suspect's movements both while he was on foot and in the stolen vehicle."

-John Vermillion, Chief of Police

City of Kenton, Ohio

" I would recommend to any Law Enforcement Agency who may be in the need of a tracking K9 Team to contact Julie & Quincy.  This team is incredible to work with and to watch work.  Julie is a true professional and takes great pride in ensuring that everything is done by the numbers.  She and Quincy pay attention to detail and more importantly respect the investigation that your department will be conducting while she is working with you.  If Law Enforcement is not using V-K9 Scent Specific and Recovery (Julie & Quincy) then they are missing out on a very valuable tool that can assist and solve your investigations."

-Scott Wilcox, Sergeant

Orono Police Department, Orono, Maine